Cyber Risk Quantification Services
Value at Risk in Financial terms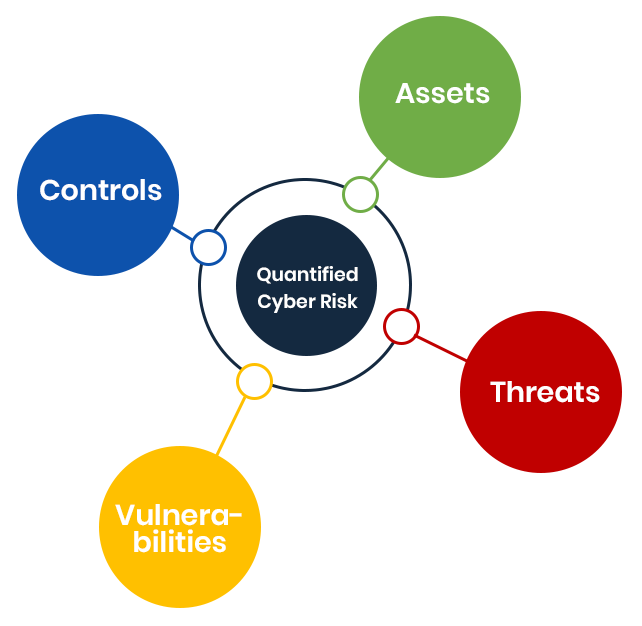 Quantify the financial value of cyber risk and make smart decisions on managing the cyber risk
Helping businesses quantify cyber risks, thus making cybersecurity more transparent
Cyber Risk Quantification helps in quantifying the magnitude of cyber risks and get a clearer picture of the cyber risks your organization is exposed to.
With our state–of-the-art platform we can help you
Discover the value at Risk due to cyber threats
Improve decision making on cybersecurity investments
Arriving at adequate cyber liability insurance, and
Most importantly help everyone in the organization better understand the magnitude of cyber threats in financial terms
Cyber Risk is a business risk and needs to be understood in financial terms.
Here is what we can help you with:
Your financial exposure to cyber risk
The best strategy to mitigate it, balancing efficiency and cost-effectiveness
It is an ROI-driven platform helping you to optimize your budget and focus on your core business, while enhancing your decision-making process through advanced real-time computations, state-of-the-art analytics and strategic dashboards.
Understand the magnitude of cyber threats.
Cyber Risks are difficult to quantify due to the variety of factors that need to be taken into account. With our state-of-the-art platform driven cyber risk quantification services, you can understand the scope and magnitude of cyber risks in financial terms and invest appropriately for better protection
Transparency in cybersecurity requires clear understanding of inherent risk and residual risk in financial terms. Quantifying your cyber risks in financial terms helps you make informed decisions on cyber risk treatment e.g., avoid, accept, mitigate, and transfer cyber risk and spend your cyber security budget more wisely.
Making Cybersecurity More Transparent
Determine the right cyber insurance
Having adequate amount of cyber liability insurance is critical while transferring risk. With our cyber risk quantification service, you'll get a clear understanding of the cyber risks that could result in serious financial loss to your organization and be able to collaborate with Insurance companies better on arriving at an adequate level of cyber liability insurance. We can help you with determine if your cyber liability insurance is adequate to your needs. We work with over 40 insurance companies, so we're sure to find one that can meet your needs.